Admission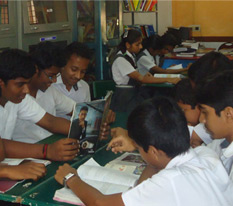 The classes for every academic year will commence in the month of June. The school prospects and Application Form can be obtained from the school office between 9.00 am and 3.00 pm on remitting the necessary fee.
Students who seek admission from STD-III to STD-IX will have to appear for an entrance exam that test their aptitude in English ,II language ,Science & Mathematics .The question papers will be based on the general syllabi and not on the current text books. The Entrance exam & Personal Interview is held in the month of March & April . As a matter of policy , we do not admit students to STD X & XII. Students seeking admission to STD-I should be atleast 6 years old.
For STD-XI we are providing 3 streams:
First Group: English, Computer, Chemistry, Physics & Mathematics
Second Group: English, Biology, Physics, Chemistry, Maths/IP/Computer
Third Group: English, Accountancy, Business Studies, Economics, Maths/IP/Computer
Admission to STD-XI is purely based on merit.