Dr. Anitha D. Kini's Ph.D. Journey in Political Satire Analysis
We take pride in Ms. Anitha D.Kini, a faculty in the Hindi Department, who has accomplished the achievement of earning a Ph.D. from M.G.University. Her scholarly work delved into "SAMKALEEN RAJNAITIK VYANGY NATAK: EK VISLESHNATMAK ADHYAYAN" (Political Satire in Contemporary Dramas: An Analytical Study).
"Principal Rev. Dr.Varghese Kachappilly CMI, Achieves a Milestone : A PhD Journey Fulfilled".
"Principal Rev. Dr.Varghese Kachappilly CMI, Achieves a Milestone: A PhD. Journey Fulfilled" A felicitation ceremony was organized on 10th July 2023, Monday, by the school during the assembly to honour the Principal, Rev. Dr.Varghese Kachappilly CMI's accomplishment of earning a Ph.D. and obtaining a doctorate degree. The purpose of the ceremony was to recognize and celebrate the principal's hard work and dedication in balancing the academic pursuits while fulfilling the responsibilities as the school's leader. As part of the felicitation, the Principal was presented with a bouquet of flowers as a symbol of the school community's pride and appreciation for their remarkable accomplishment.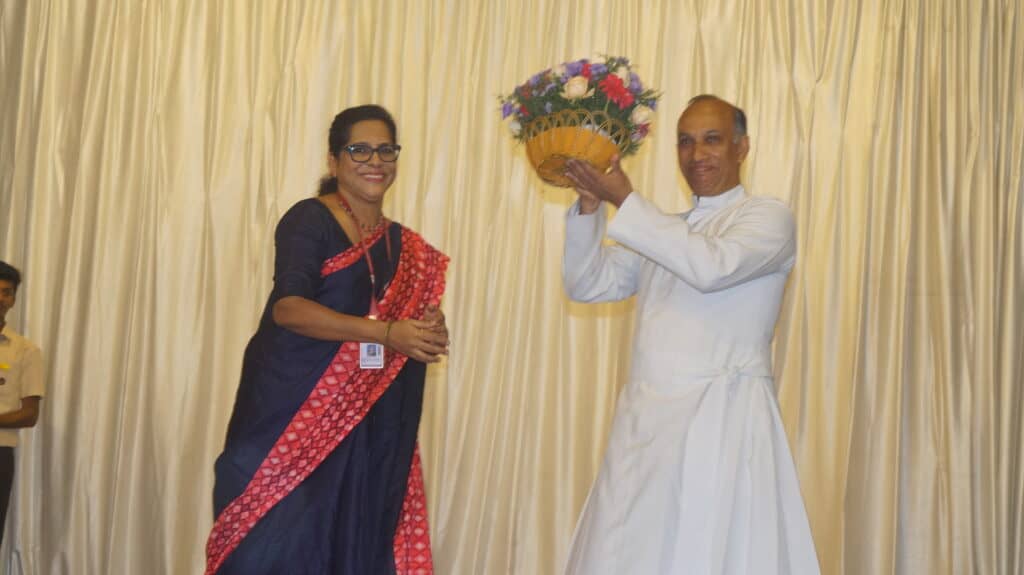 One Day Workshop for English Teachers
One day work was conducted for English teachers at Sri Sri Ravi Shankar Vidya Mandir on 15th July 2023. Mrs. Mala B Menon, the retired Principal of Cochin Refineries School was the resource person. Mrs. Uma S. and Mrs. Cini Joseph V. represented our school at the workshop. The workshop mainly focused on teaching in primary classes. Different methods to make English teaching fun was discussed in the workshop. Teachers were divided into groups and different groups presented a demo class in the workshop. The workshop was both entertaining and informative.