Parent Login
Parent Login in School Digital

How to Register in the Parent Login of School Digital
Step 1:     Type https://www.schod.co.in in the browser. You can use android device, apple device, laptop or desktop. Click on 'Create Account'.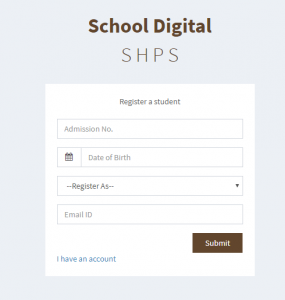 Step 2:     You will be taken to the next page where you have to give the admission number of the student, date of birth of the student, registering as (Father/Mother) and e-mail id. If registering as Father, then father's e-mail id and if registering as Mother, then mother's e-mail id.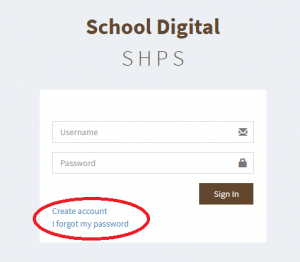 If your e-mail id is not linked with your ward, you will not be able to create a new account.  If so, you should send an e-mail to support@shpublicschool.com with the subject 'E-mail Updation'. You must mention the admission number of the student, name of the student, class and division, e-mail id and the owner of the e-mail id. Once it is updated, you will receive reply e-mail that the mail id is updated. Then you can try again.
Step 3:     Once you complete creating the account, you will get your username and password in the given e-mail id. You may login using the username and password. When you login for the first time, you will be asked to change  the system provided password to a new one.
Features of the Parent Login
Student Profile: Basic details of the Students are given here. As the system is being developed, more details will be given.
Fee Details: There are two options in Fee Details; Regular Fee and Advance Fee. In Fee, all the fees uploaded to the bank will be displayed. And once the fee paid information is updated in the school software, you will see the date of payment too. There could be some delay between the date of payment and updating it into the school software. In Advance Fee, all kinds of deduction with a description and the balance amount are displayed.
Circular: All the circulars issued will be displayed. Circulars of last one year are expected to be displayed here.
Notice Board: This is meant for general announcements like Admission Open, Open Competitions etc.
As the more information is passed to the Parent Login, it will be updated here. Date of last update: 02-August-2019.